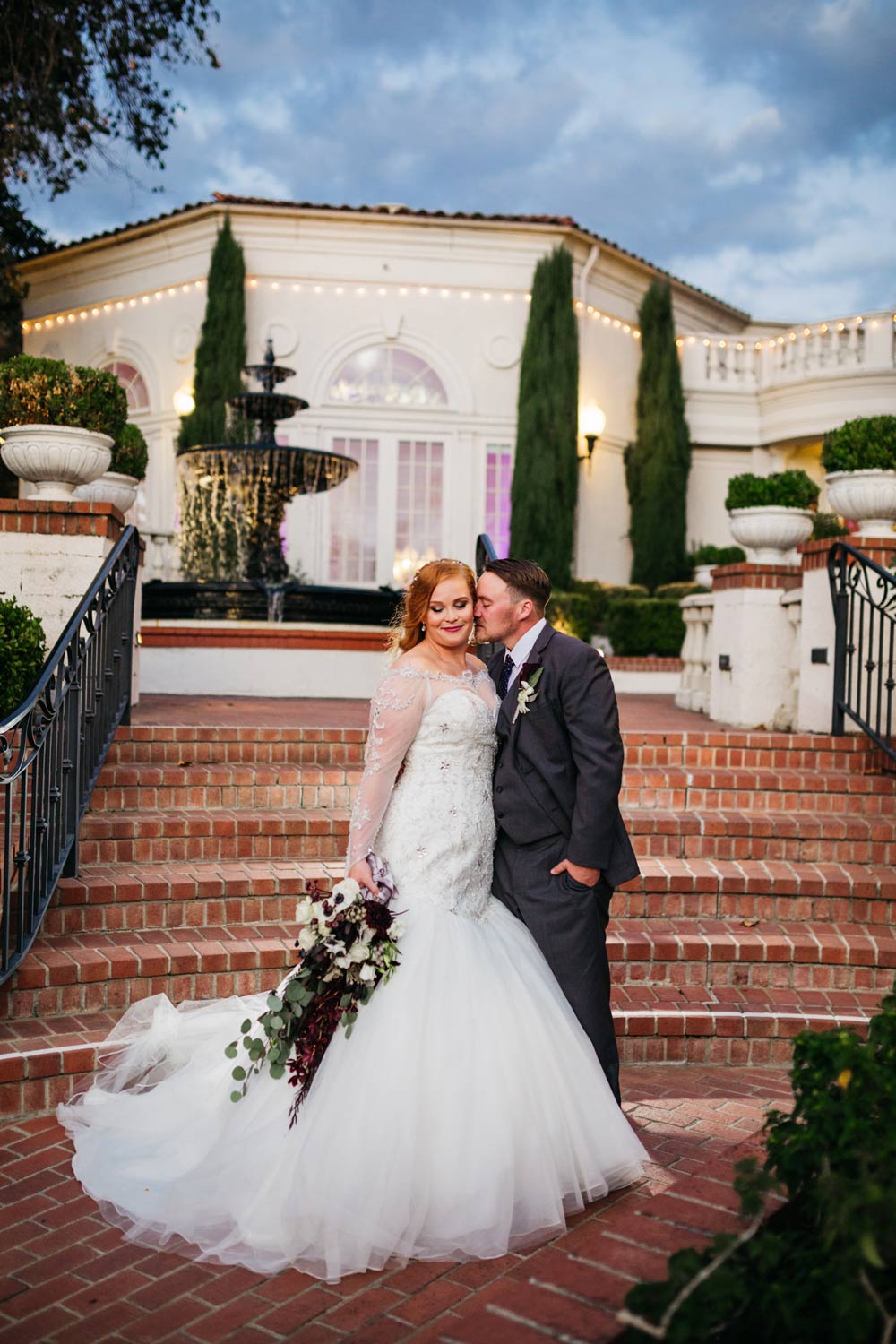 When a girl needs to get her car fixed, there's nothing like being able to rely on a good mechanic. And when Megan found hers, she made sure to not let him go. When her car rolled into Branden's shop and he got a look at the beautiful redhead in the high heels, the wheels started turning, and soon he had the car and its owner purring like a kitten. Since then, their relationship has been firing on all cylinders. http://www.kernowdreamphotography.com/
Now, whatever a mechanic's garage might be, it isn't the most magical place on earth. But Disneyland is, so that's where the couple brought both of their families for Branden's proposal. On their first day there, he got down on one knee in front of Cinderella's Castle. Knowing she was going to say yes didn't help calm the nerves, he says now, but he got it together and managed to ask the love of his life to be with him forever. Then, says Megan, "We spent the next three days in the most magical place on earth sharing our engagement with our families. It was everything I could have ever dreamed of."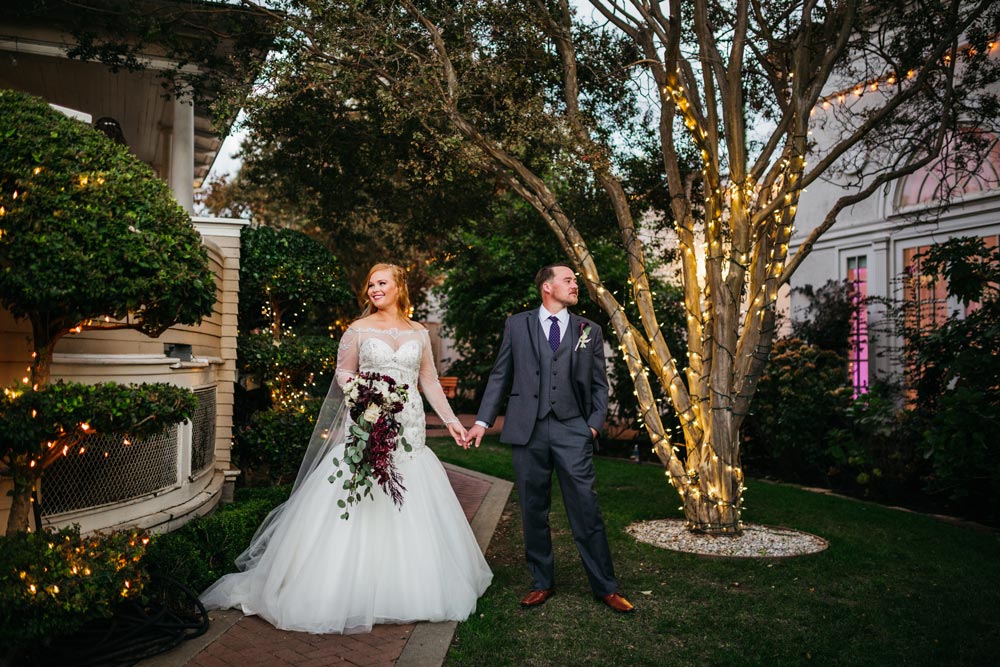 The wedding gown is a story in itself. Megan fell for a strapless mermaid gown with a drop waist in ivory with a beautiful silver beaded bodice and shimmery glitter tulle. Fittingly, the dress was called Ariel and it was from her dress shop's Disney collection! But unexpectedly, she got a phone call one day from the store, and was told that she had just two hours to pick the dress up or it would be gone forever. The store chain was going out of business!
Megan finishes the tale: "I was lucky to be among those who got the call that they were closing their doors. I know many didn't receive their gowns. I was also lucky because I was able to buy the floor model of my dress as well, so I could use the beading to create the custom sleeves for my dress. It turned out exactly how I imagined! I couldn't have dreamed it better."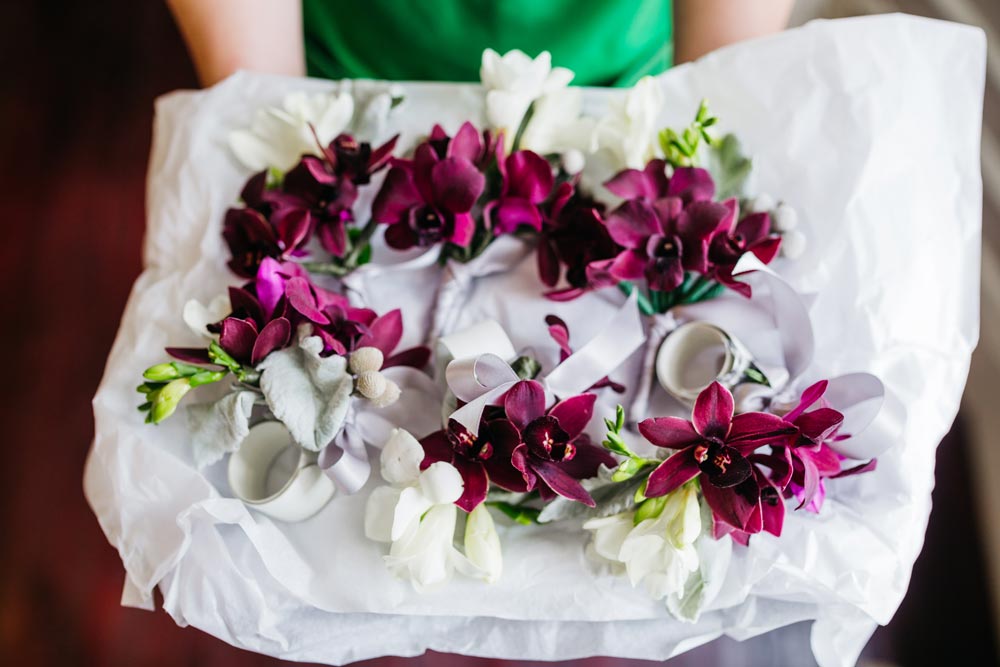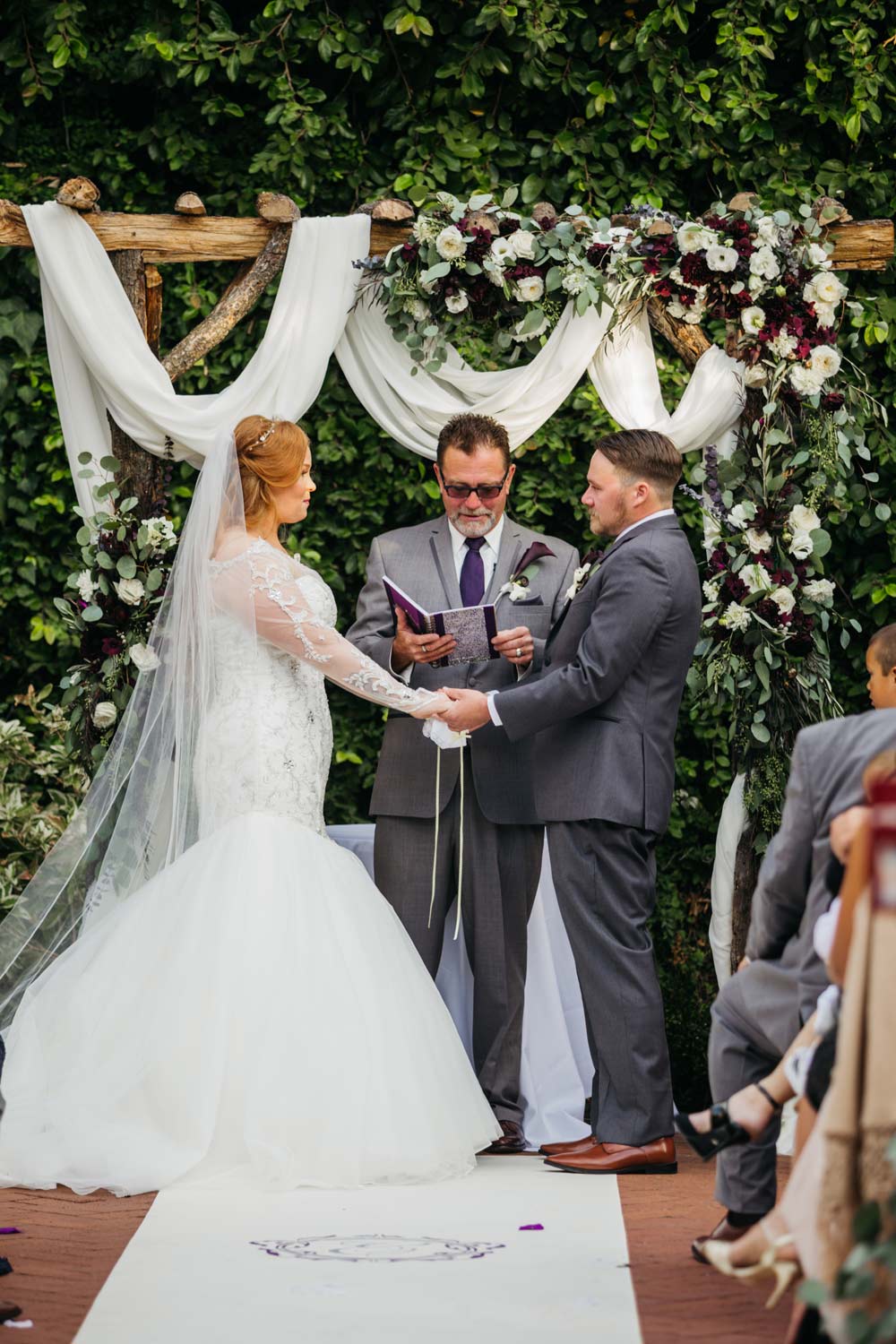 Sacramento's landmark Vizcaya Pavilion and Mansion was the location for their romantic wedding. Megan set the mood with soft lighting and lush florals, and a color palette of dark purple, gray, and touches of green and white.
Brandon got a chance to show off how handy he could be by constructing a wonderfully rustic arch for the ceremony, which was draped with ivory silk and adorned with plum and ivory flowers in an abundance of foliage, elements which were also used in the bride's bouquet.
Three different centerpieces designs adorned tables in the reception hall. There were high trumpet vases with cascading blooms and luscious greens, low circular arrangements with lush flowers in shades of plum, ivory and green, and three piece sets of tiered cylinders filled with white orchids and floating candles. The floral arrangements and the soft glow of candlelight created the romantic mood Megan wanted perfectly.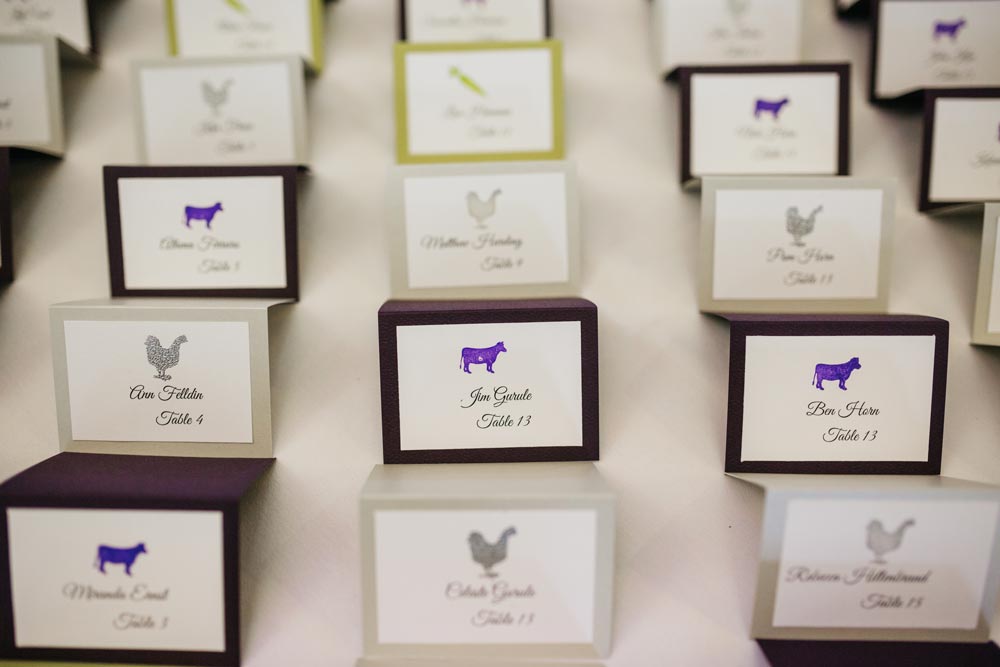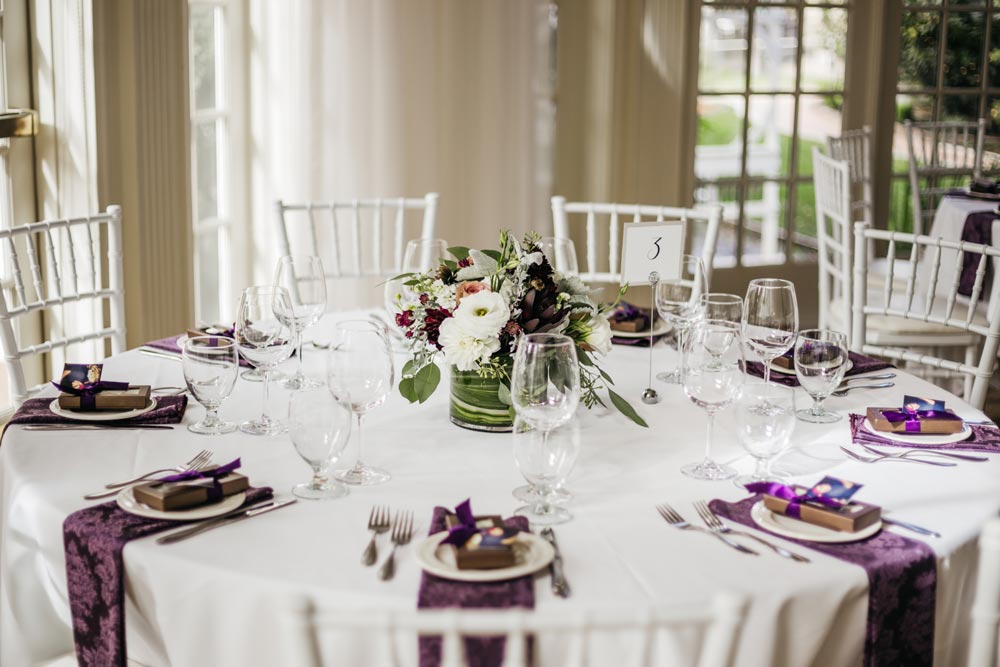 After a ceremony made more personal by Megan's best friend and maid of honor who sang Elvis Presley's' "I Can't Help Falling in Love'" guests enjoyed a cocktail hour and then a wedding feast that put the spotlight on Vizcaya's outstanding cuisine. Dinner started with a Mixed Green Salad with Chopped Almonds, Apples, Dried Cranberries, Crumbled Goat Cheese and Balsamic Vinaigrette. Entree choices were Deviled Marinated Chicken in Spicy Mustard and Cayenne coated and baked in Panko Crust with a Dijon White Wine Sauce, Tri-Tip with Chimichurri Sauce and Baked Gnocchi with Carmelized Onion, Chanterelle Mushroom Cream, and Parmesan and Panko crust.
For dessert, what else but cake? Megan says, "We served a four-tiered cake. Two tiers were peanut butter cake with strawberry jelly filling. One tier was carrot cake, and the last tier was a gluten free chocolate cake. It was topped with cascading chocolate and white chocolate strawberries with fresh flowers."
After dinner, dance music was an eclectic mix. But all of the timeworn standards like "Shout!"' "Respect" and' "Chicken Dance" were on the no fly list! It wasn't all just dancing, though. On the patio, hand-rolled cigars were made to order for the guests.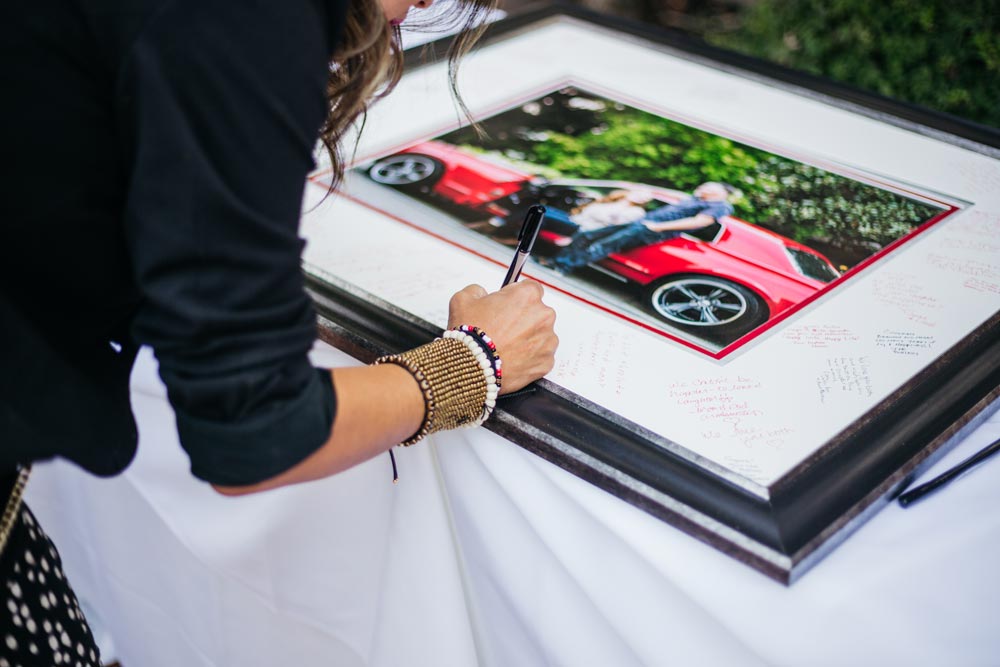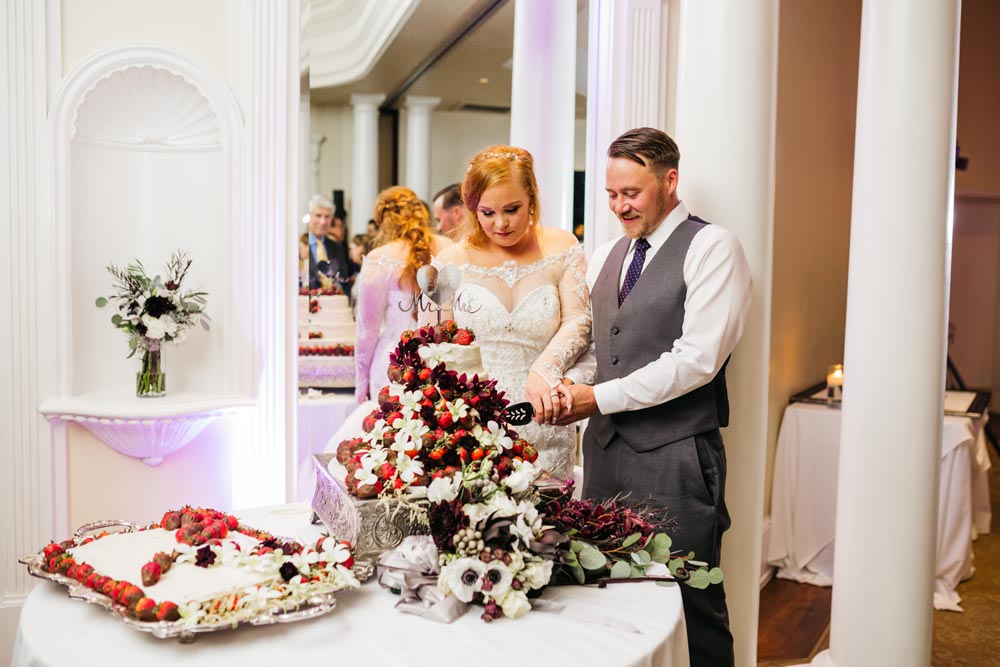 When it comes to hiring vendors, Megan says, "Be honest with your wants and needs. Don't be afraid to let them know when something is making you unhappy. However also be open to their expertise, they are there to help make your day perfect and easy! I could not have asked for a better team of professionals on my big day. A few that deserve a shout out, though."
"Ranalla Photo and Films were an amazing team who anticipated our needs, rolled with the punches and time constraints like champions and even stayed late just to make sure we got the perfect shot of our sparkler exit. I could not have picked a better photography team."
"As we did our final dance of the evening we were surrounded by our friends and family. As we danced, we heard snippets of our vows being played over the music. Intermittently between the song lyrics was our words to each other, and the dance ended with our family and friends singing the last song to us. It was just so unexpected and beautiful. All I could do was bury my head in my husband's chest and cry the happiest of tears," Megan recalls.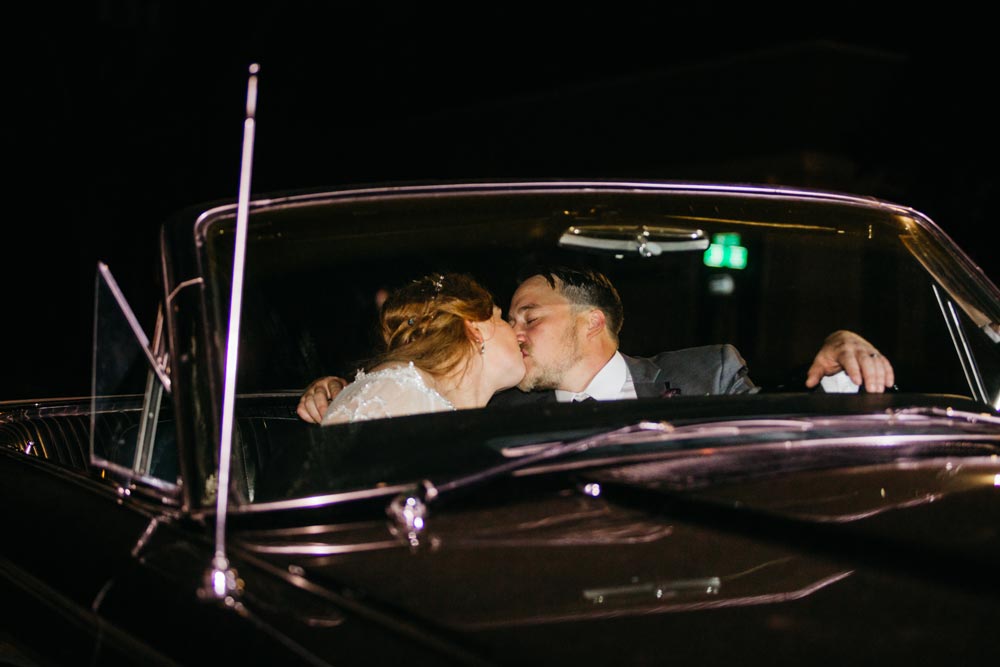 The day's most romantic moment came at the very end, according to Megan. "As we were wrapping up our evening after the sparkler exit, we got into my father-in-law's classic convertible T-Bird, complete with cans dragging and "just married" sign. As we made our way around the block, rain started falling. We stopped, and just sat there and kissed."
After the festivities, the newlyweds spent the night at Vizcaya's bed and breakfast, then it was off for a spectacular honeymoon. "Rather than do a traditional registry, we opted to do a Honeyfund. All of our friends and family contributed to our dream honeymoon: a two week Caribbean cruise! We swam with dolphins, held stingrays on a sand bank, snorkeled with sunken ships and relaxed on the beach. We enjoyed the culture at each port and even brought home an unexpected souvenir; a baby is on the way!"